Bags glorious bags – Alternative unisex carrying gear to make you smile!
Saturday, 28 September 2019 | Kate
If it's possible to make it vibrant, make it so. If it stays still, decorate it. If it's practical, insist that it is also beautiful. We don't do things by halves, which is why our unique alternative clothing and accessories are so popular with our customers – people who love to be different, love colour and pattern, are bored of high street fashion and are not afraid to have fun, be creative, and mix 'n' match. This time around we thought we'd feature some of our fabulous bags. There's something for everyone. They're all as classy as a classy thing, really well made. And every one is a small yet perfectly formed masterpiece in the fine art of embellishment. Welcome to our bag feature. If you're feeling in need of a bag with a difference, whether you're male or female, walk this way. They're splendid.
The ancient history of bags
Bags pre-date recorded human history. They almost certainly pre-date the wheel. And they probably helped humans along the road to long-term species survival: simple lengths of animal skin, cotton, or woven plant fibres folded and secured with string that meant people could carry food, goods, weapons and essentials with ease, leaving then hands-free. In a way, the humble handbag helped to make humanity what it is. There's a thought for you!
Our sweet flower print hippie belt bag – Gorgeous and practical
Apparently most women's fashion doesn't have pockets because that would affect sales of handbags... oh, the weird world we live in! Luckily the belt bag is back. Actually it never really went away, which is why we stock such a stunning collection of them.
In a world where most women's clothes don't have pockets, the belt bag – AKA the bumbag – is wholly practical, leaving us in the same happy hands-free position as men, with no need for an actual handbag. This one comes in a collection of happy bright colours, unashamedly colourful and flowery and fun, and it contains three large zipped compartments as well as an adjustable belt to fit any waist size. You'll find a load more belt bags here, many unisex, including one made from the same fabulous screen printed fabric as the amazing bag we feature next...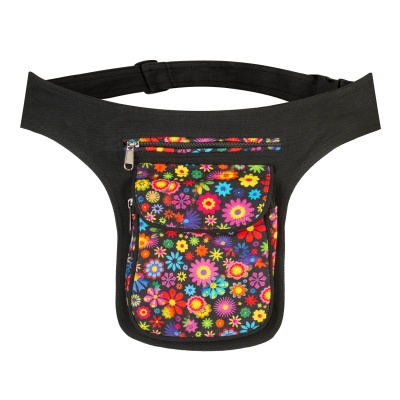 Our lush screen printed shoulder bag – OMG, the colours!
This one's just amazing. Take some of the most complex, deliciously colourful screen printed fabric in the world, smothered in patterns inspired by nature, and is available in three stunning colour-ways. There's a black cotton lining plus one large and one shall zipped compartment inside, so you can organise your bits and bobs properly. It slips over your shoulder for security and hands-free convenience, but can also be worn on one shoulder. The strap is really wide which lends it an unusual style, really eye-catching. It closes with a zip and there's another small zip pocket at the front on the outside. And there's a funky decorative wooden button too.
Our gheri and suede shoulder bag – pure class!
A proper unisex treat, this classy shoulder bag has all sorts of cool features. It's luxurious and beautifully made, using complex, colourful striped Gheri fabric plus real suede. You can either wear it on one shoulder or like a bike bag, over your chest, for security, thanks to the adjustable strap. It's ideal for any occasion when you need plenty of storage but also want to look stylish and together. There's a big zipped pocket at the front, secure under the flap, and one main compartment, also zipped. Last but not least it closes with a buckle at the front. Oh, and what is Gheri fabric? It's a strong woven material produced using an ancient weaving technique on a backstrap loom. It's remarkable stuff, so bright and colourful and strong.
The biggest and most beautiful bag of all!
You like your bags BIG? Cool – here's a treat for you. Our enormous shoulder bag is nice and roomy, made from gorgeously patterned and coloured screen printed cotton. The bag is a curious shape, which only adds to its appeal, and it's just as practical as it is good-looking. A pure cotton lining, two big open compartments, a zipped pocket on the outside and another inside mean it's easy to organise your belongings. To close it, there's a secure zip plus a nice wooden button.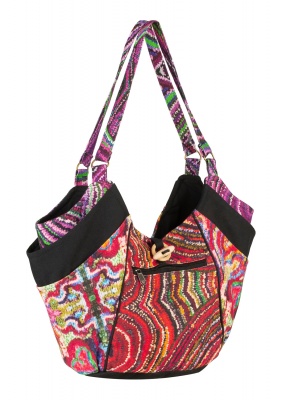 Love bags? Explore the collection!
We have three luscious pages of fab bags for you to explore, with something for everyone. Fill your boots – here's a link!