Beautiful trousers – Stunning wide led, slim leg, and harem trousers
Sunday, 9 February 2020 | Kate

Let's appreciate trousers! They're a particularly important garment for women to celebrate since, until fairly recently, trousers were frowned upon for females. During the late 1980s women in some office jobs were still officially required to wear a skirt, not trousers. I know because I was one of them, forced to wear a skirt for work at an insurance office in 1989. Even then it felt unacceptably old fashioned and sexist. Now, thank goodness, it seems totally ridiculous. Despite being worn by both sexes since time immemorial, trousers somehow became a masculine item of clothing for many hundreds of years. In the 1800s wealthy women started wearing a type of trouser once more, but only for riding horses and only worn modestly hidden underneath a long skirt. By the 1880s plenty of western women were wearing trousers for leisure and sport, for example to enjoy the cool new trend for cycling. But there was a long way to go. Trousers for women were illegal in some places and unacceptable in others until the 1970s and beyond. These days, trousers are worn by women all over the planet without a second thought. It's hard to believe that any kind of garment was once used as a weapon in the battle of the sexes. So... having spent centuries unable to wear them, let's celebrate the wonder of women's trousers. Here are six of the best, all in stock and waiting for you.
Want wide palazzo pants? These are elegant, they're sophisticated, and they're a dream to wear. Made from deliciously pretty rayon fabric, which flows beautifully, they're printed with exotic butterflies and flowers on the front and the back. There's an extra-high waistband with plenty of stretch, which means you can fold it over for a perfect fit. There's a subtle drop crotch that adds extra style, and a couple of pockets at the side for practicality. Imagine these with a plain black or white fitted top? Or one of our patterned hippy tops? Wonderful.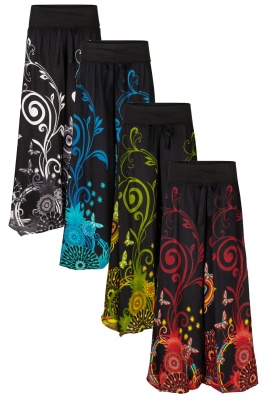 You know our wrap skirts, the ones with the attached purse and poppers? These trousers follow the same trend with a fantastic little purse attached to the waistband in lush contrasting shades. The elasticated drawstring waist makes them very comfy as well as practical, and the neat gathered ankles give you an exotic look. The beautiful flower and leaf motifs flow down the legs, a feats of red, orange, yellow and blue, and the black background is full of drama. Dress them up for parties, down for casual.
Slim-fit trousers are incredibly flattering, and these are a bit unusual with their fab geometric patterns in grey on black, contemporary and fun. They come with a good stretch in the fabric for an excellent fit and have a classic zip and button closing. Wear them rolled up or long, with delicate sandals or chunky boots. Add a boxy jacket and a jewel-coloured embroidered top. Or throw them on underneath a beautiful boho dress for 90s-style grunge sophistication.
Harem pants are the ultimate in unusual, rebellious trousers. They create an amazing silhouette as well as being seriously comfortable to wear and incredibly versatile. These ones have a dramatic 6 inch smocked waistline for a flattering outline but there's more. This is not merely a pair of very nice harems. Pull the waist up under your arms and voila, you've got a beautiful bandeau top jumpsuit. That's what we call cool.
Fresh, funky and flowery cotton palazzo trousers
The sheer, lovely simplicity of these trousers captures hearts. No wonder they fly off our shelves. These are inspired by nature, lots of glorious flowers and stems in leafy pale green and summery turquoise, printed and then embroidered to create texture. There's a V shaped pale green waistband for contrast and the waist is elasticated at the back to help you create that loose, relaxed fit that looks so awesome.
Celebrating hot weather - Gorgeous summery palazzo pants
Never say we don't spoil you with brilliant ladies wide leg trousers! These ones are cool and lightweight, made from deliciously pretty partly-see-through rayon fabric. The background is a smaller, more delicate pattern and the bolder toning and contrasting panels down each side provide extra visual interest as well as inspiration for what colour top to choose: go for plain or patterned and enjoy the long-legged outline these splendid trousers give you.
Keep your eyes open for new stock coming soon!
We'll be refreshing our stock soon, with spring on the way and summer a lovely distant treat to look forward to. In the meantime, fill your boots with our glorious trousers and sumptuous alternative leg-wear.